Overview
Edit
The Ultimate Sin is the other mower available with the Mega Super God Pack. The mower is textured as a grayscale type of mower.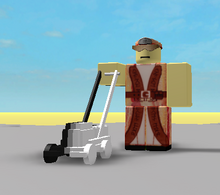 Stats/Abilities
Edit
The ultimate sin gives around 1.9 million (?) trimmings which is beaten by the Ash chainsaw. It used to have an active ability, but it was removed during updates. Upon activation, the user will be engulfed in black and white flames while having increased speed while it plays a Sonic theme (Gotta Go Fast).
The Ultimate Sin's retextured (or re-colored) model is the Bacon Mower
Ad blocker interference detected!
Wikia is a free-to-use site that makes money from advertising. We have a modified experience for viewers using ad blockers

Wikia is not accessible if you've made further modifications. Remove the custom ad blocker rule(s) and the page will load as expected.