Were you looking for the FOMT Omen Pistol?
The Omen is a mower in the Magic class of MOW MY LAWN default shop.
Availability
Edit
The omen is the cheapest magic mower. It costs 50,000,000,000 Trimmings.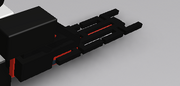 Stats/Powers
Edit
"Archweapon crafted to fight gods. Doesn't really work though. Still good for mowing lawns."
The omen is a flat black archweapon with a red transparent center. People usually either use omen or 3D Gear until they reach 900,000,000,000 trimmings for Orchestra.
Gives around 9,000,000 trimmings
It is an archweapon made to fight gods despite not being a Boss Weapon.
Ad blocker interference detected!
Wikia is a free-to-use site that makes money from advertising. We have a modified experience for viewers using ad blockers

Wikia is not accessible if you've made further modifications. Remove the custom ad blocker rule(s) and the page will load as expected.