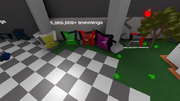 The Main Boss hub is the hub where most bosses can be found and fought.

Now, instead of going to boss fights directly from the Main Lawn, there is now a separate place where you can go to access these bossfights, which is PvP-free, although those in FoMT with rank 2 will still be able to reset hacked stats with Llin's Spear. The bossfight hub is also the place where the Transcendence boss fight will take place.
The old portals for Ultiel, Ulcerava, Gaea, Yenti, and Llin were made by legoblox278 (slightly modified), who also made the little green flowers.
They were replaced with more simpler portals because Lego's was shit anyways.
In the Boss Fight Hub, there are portals to several bosses in the game. Not all of the bosses, but most of them. (RIP AUNA WHAT A BITCH)