| | |
| --- | --- |
| | Llin is displeased, this page needs more QUALITY. |
Overview
Edit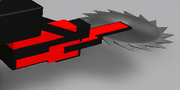 The Decimator is a mower in the saw class of mow my lawn default shop. It is basically a large sawblade turned on its side to mow grass. Because of that, this mower is able to get tons of grass per swing.
Availability
Edit
The Decimator costs 1 mill Trimmings, and can be bought in the default MML shop in the saws category.
Stats/Powers
Edit
Nothing really "special" but it has a medium/longish reach and a large surface area for mowing/killing.
Nets 300 TpG
Unlike the other saws, the Decimator's blade is circular.
Ad blocker interference detected!
Wikia is a free-to-use site that makes money from advertising. We have a modified experience for viewers using ad blockers

Wikia is not accessible if you've made further modifications. Remove the custom ad blocker rule(s) and the page will load as expected.