| | |
| --- | --- |
| | Llin is displeased, this page needs more QUALITY. |
Overview
Edit
The B scissor is a mower in the blade class of the MOW MY LAWN default shop.
Availability
Edit
It currently costs 30,000,000 Trimmings in the "Blades" shop.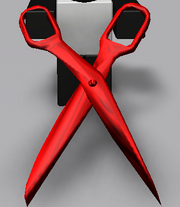 Stats/Powers
Edit
Buying this will give you the badge, TOTALLY NOT A REFERENCE.
Kill La Kill scissors. The scissors are based off the protagonist's "scissor blade". Unlike the only single one she has, this is the pair.
Stained red in the blood of the scrubs that the MLG gods slain during their early years.
THIS IS NOT A REFERENCE. LOOK AWAY.