A laser sniper gun that is obtained by buying the "Guard Duty" gamepass. This gamepass also gives you a chainsaw that can cut through FF.
Abilities
Edit
The gun shoots yellow laser bullets that on impact cause damage over time with a Fire debuff, The Explosions were removed after the Reset. It is somewhat rapid-firing, and could be used to dispatch everybody at once. You can not cut grass with the Apollo Anymore since it's explosions were removed.
This weapon is now compeltely useless, as PVP is removed.
SirLordGuest and his Apollo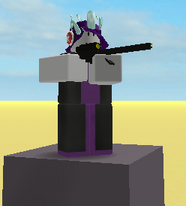 Ad blocker interference detected!
Wikia is a free-to-use site that makes money from advertising. We have a modified experience for viewers using ad blockers

Wikia is not accessible if you've made further modifications. Remove the custom ad blocker rule(s) and the page will load as expected.